NPF Gold Glove winner Chelsea Goodacre was honored at the MLB Gold Glove Award Dinner in New York City.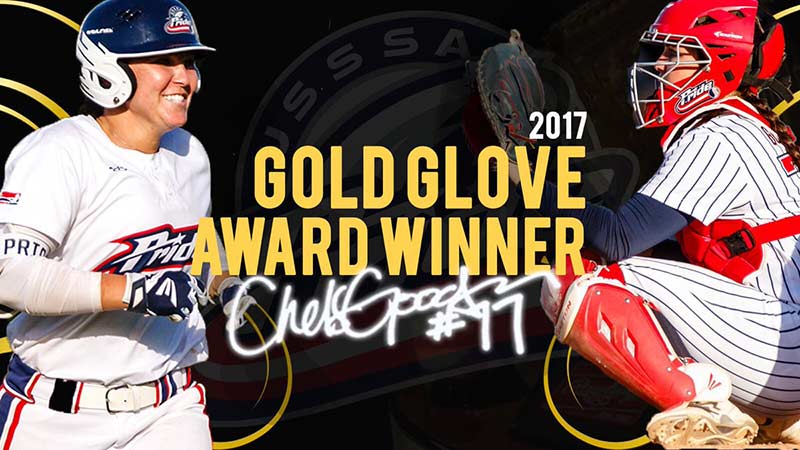 Former Wildcat All-American catcher and 2017 National Pro Fastpitch Gold Glove winner Chelsea Goodacre was honored at the Major League Baseball Gold Glove Award Dinner on Friday November 10, 2017 in New York City.
Goodacre did not commit an error in 211 total chances (196 putouts and 16 assists) in 40 games this season while also throwing out 65% of potential base-stealers, the best mark in the league.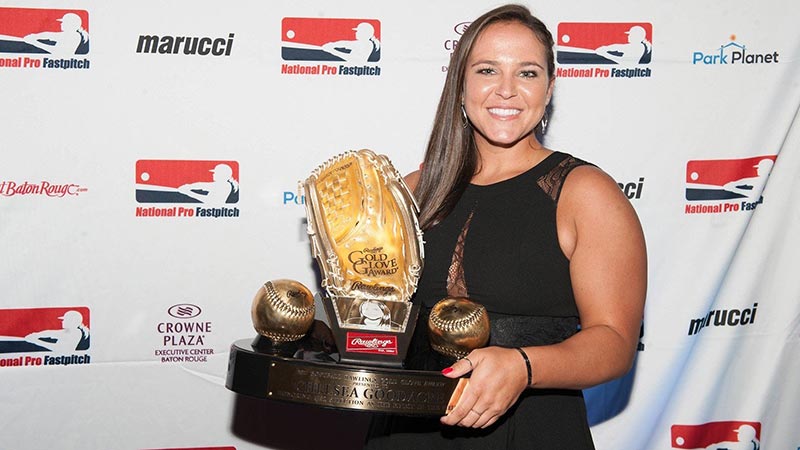 Read more about the award at: PR News Wire and Arizona Wildcats
Chelsea Kathleen Goodacre was born on September 26, 1993 in Glendora, CA and has one older brother, Justin. Early on, Chelsea was a very competitive Go-Kart racer, until one day she was introduced to softball and from that point on she was instantly hooked. That was the beginning of her passion for softball, which continued to grow daily. Although being a natural righty, she started batting from the left side of the plate when she was 12 years old. She felt that by batting on that side of home plate, a little closer to 1st base, would help her chances to reach 1st base safely more often.
She became known as a power hitting lefty, known for some very impressive Home Runs at a young age. Although most of her early travel ball days were playing defense as her teams'short stop, it wasn' tuntil she was asked by her coach if she could fill-in as catcher for one game that she really fell in love with catching.In the spring of 2010 she was asked to try out for the USA Junior National Team in Chula Vista, CA.
Soon after being invited, she broke the wrist of her throwing hand during a High School Softball game which required her to be in a cast for 6 weeks (USA Tryouts were in 7 weeks).Determined to still attend the try outs, she continued to train every day for the upcoming tryout with her cast on, knowing that if the cast was removed in 6 weeks, as the doctor told her it would be – she would have one week to finish her preparation without a cast.
After 5 days of Team USA tryouts, she was invited to join the USA Junior National Team as their catcher. She had the opportunity to play for team USA in Bogota, Colombia and Cape Town South Africa,where they won the Gold Medal.
Immediately after finishing with Team USA, she began her four year career for the University of Arizona, where she was described as one of the most prolific hitters in that programs history, garnering her a place in their record books in 4 different categories. 71 career home runs, and 240 RBI's. During her career there, several of her home runs not only cleared Arizona's outfield fence, but the ball landed on the roof of a three story structure, 60 feet beyond the Home Run Fence (A feat that had only happened twice in Arizona Softball History, and she managed to do this, several times)!During her time at Arizona, she became known as "Goody", which is a nickname that stuck with her throughout her career there.
Goody's accolades include Top 5 In Arizona's history of players hitting Home Runs, career (71), 9th in Arizona History in Home Runs per Season at 24, 9th in RBI's in a season with 86 and 7th in total career RBI's at 240. She was also only the 6th player in Arizona's history to hit over 20 home runs in consecutive seasons. Her senior year she was named one of the top 26 finalists for USA Softball Collegiate player of the year. She was selected to the NFCA Div 1 1st team, West ALL- Region, Pac-12 1st team All-Conference (3 years in a row) and selected to the NFCA All-America team.
She currently plays for the National Pro Fastpitch (NPF), USSSA Pride team based in Kissimee, Florida.
Easton – 2017 Stealth Flex Feature Video